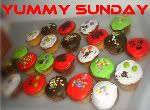 Few weeks ago my husband arrived home with fresh crabs. A friend from Surigao gave it as a "pasalubong" to him.




So, I thought of cooking crab curry! I was so excited to eat and was able to eat a lot that's why there are only a few crabs was left in the serving bowl. It was only then I remembered to take a picture .Lol! Yummy!

By the way, I used the curry powder that my brother in law brought from Malaysia and mixed it with our curry powder here in the Philippines so that it would not be so spicy.Thank God my husband like it, but sad to say that this is all what's left for him.LOL!