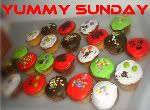 I have tried making chocolate truffle for the first time during Z's birthday. I saw how to make this recipe from my son's Hi 5 video before. I thought of including this in my son's birthday menu for it is easy to make and it also looks yummy.
While I was making the chocolate truffle my nephew, Renzee was around to help me. He enjoyed shaping the truffles and at the same time putting some into his mouth.Lol! He liked it so much that 2 days after that he requested his Ate to make for their snacks.
I would like to share this truffle recipe for you to try to make along with your kids.We are also planning to teach this to our preschoolers at Little evangel Christian School.
2 pks ground chocolate graham biscuits or ace biscuits
1 big can condensed milk
1 pk marshmallow at least 30-35 pcs
1 pk desecated coconut
Very easy to make in just 3 steps:
1.Just mix the ground chocolate graham biscuites and condensed milk.
2.Form it into balls with one marshmallow at the center.
3.Then roll it in the dessicated coconut then
Have fun making and eating....